In World IT Show 2010 held at COEX, Seoul from May 25 to 28, 2010, Samsung also introduced its new Android smartphone named Galaxy A to Korean public. The product code name is SHW-M100S and the version is the equivalent of its sister Galaxy S which is to be sold outside Korea. Galaxy A is equipped with 720 MHz CPU and 3.7 inch WVGA AMOLED touch screen.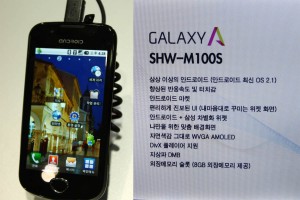 The above figure shows a photo capture of the smartphone. On the right side is the explanation of the features of the smartphone in Korean which is translated below:
Android OS 2.1
Improved responsiveness with touch screen
Android market
Convenient progressive UI (total user control of installed widget)
Android and Samsung-social hub widget
Personalized background settings
WVGA AMOLED screen
DivX player installed
Terrestrial DMB (Digital Multimedia Broadcasting)
External memory slot (8GB memory offered)
The release of this smartphone may heat up the competition in the smartphone market which is currently dominated by Iphone from Apple. An effort from Samsung to establish a social hub as a place of content exchange and widget market can be seen as a similar attempt with what Apple has done so far with its App Store. It can't be neglected that the existence of a big array of exciting and useful widgets and contents is one of the factors which attract users to keep using a certain product.
Personal Review
I had the chance to try the gadget and test some of the functionalities. I concede the claim mentioning the touchscreen is more responsive. However, to certain extent I feel that the user interface is somehow similar with that of Iphone. Nevertheless, the similarity could be a driving factor for the users currently using similar interface in other products to also try this new gadget. The notion that Android is the installed OS exceeds my expectation of what an Android phone can offer. I could not testify the quality of either streaming media or voice call since such features were disabled at time. However, I can say that this smartphone is potential to be a serious contender to current incumbent.