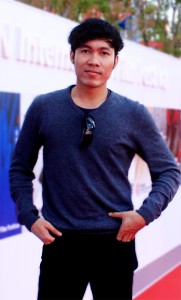 Hi, I'm your host Mike. This is my technology blog which contains my interest and passion to latest technology. No personal issues, except some personal opinion on technology related topic.
I graduated from Electrical Engineering department of ITB (more about ITB) and have interests in computing and programming related stuff, embedded system, distributed system, cloud computing, machine learning and artificial intelligence, application and network security, and most importantly business and management. I am keen on designing and implementing the computing system that scales, doing the architecture right from the ground up so that the millions of users who later use it enjoy pleasant experience and feel their lives enriched.
I am a fan of startup mentality and culture. In the past, I was involved in a small team of engineers, grappling with technology challenges in an entrepreneurship pursuit. Later, I moved to Korea, in an open-ended personal sabbatical, to find the epiphanies. I also advanced my study to build a stronger foundation of critical thinking and broaden my base knowledge. I was conferred my advanced degree by the Department of Computer Engineering, Graduate School of Ajou University after defending my thesis written based on my research at WISE Research Lab.
I then spent few years working at one of the Fortune 50 companies, collaboratively developing new technologies for better human life with other smart engineers, innovators, and business strategists. It was an enlightening journey that brought me the Eureka moment.

I am now back at the startup world, enjoying the roller coaster of turning the very nascent idea into a growing and sustainable business that can bring values to the people. You can find me on Linked In to figure out what I am doing at work these days.
The articles provided on this site, unless otherwise stated, are written by me and available for copying under Creative Commons Attribution 4.0 license.
All articles written are solely my personal opinions and do not reflect the standpoint of my affiliations unless otherwise stated.