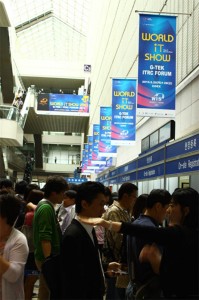 From last May 25 to 28, a big annual event named World IT Show took place at COEX, Seoul. Even though most of the exhibitors in this event were Korean companies, it still retained the claim of a world-class event given that some participating exhibitors were big global enterprises like Samsung, LG, and SK. I happened to spare some time to visit the exhibition on the last day and would like to share some opinions based on my findings.
These recent years, Korea has evolved into a country where some cutting-edge technologies are invented along with other technological innovations and breakthroughs. Only within few decades, we have seen the growth both in size and capital of Korean companies. Samsung Electronics, for example, has been known as the world's largest LCD monitor panel manufacturer. At the same time, Samsung is also known to be the world's second largest cellular phone manufacturer according to Gartner, trailing only after Nokia. Other Korean companies also try to secure the competition in technology products or at least to gain some market share. LG, for example, has been known as a competitor for Samsung in the consumer electronics segments. It manufactures LCD panels, cell phones, and other electronic devices. In Korea alone, LG is also known as one of the telco providers, bundling their manufactured cellular phones with the telecommunication network services. SK could be a less familiar brand of an electronic device vendor to the global consumers, but its business is also sprawling over various sectors, including telecommunication, petrochemicals, engineering, IT consulting, and energy.

While looking around the venues and observing products launched by different companies, I came into the realization that certain patterns exist in the products launched by the big Korean companies. The first pattern is the launching of devices supporting 3D view. I noticed that Samsung and LG were already ready to sell 3D television and LCD monitor panel to the market. At that time, both companies also provided visitor corner where visitors can experience the 3D view by looking at motion pictures displayed on the screen using special spectacles provided on the spot. I could feel the enthusiasm of the visitors in testing the soon-to-be-popular technology.
Besides the trend toward the mass production of 3D-enabled device, I also noticed the increasing sense of manufacturing eco-friendly products. Take LG as an example, it exhibited its low-energy notebook and projector. The LG X300 model weighs around 0.97 kg, consumes 0.44 W during off mode and sleep mode, and requires 13.16 kW annually with assumption of 8 hours usage daily. According to the company, it is big improvement over its X100 model which consumes power at 43.45 kW annually. The result of the improvement is less equivalent CO2 emitted to generate the power which is a decrease from 18.42 kg to 5.58 kg.
Trying to step ahead of its competitors, not only did Samsung begin to manufacture low-energy devices, it also started to manufacture biodegradable products. In the following picture, we can see some parts of Samsung cell phone which are made from biodegradable materials. The phone casing for example is made of bioplastic and recycled plastic. The company also introduced some cell phones which can be charged using solar energy thus reducing the usage of conventional energy which is commonly generated from fossil fuel.
Despite some contra-argument, it has been known that CO2 is responsible to the phenomenon called greenhouse effect. The increasing accumulation of CO2 concentration in the atmosphere will lead to more absorption of the radiative energy especially the infra-red. When this energy is re-radiated after absorption to all directions including the earth surface and lower atmosphere, it will create a warmer space identified by increasing temperature. It is then necessary to limit the emission of the greenhouse gases like CO2 and resort to more eco-friendly production chain or green-technology. I also once talked about community efforts in addressing the global warming through the movement called green purchasing.
Ultra thin Samsung LED TV
I also noticed another great innovation by Samsung in their LED TV product. During the exhibition, Samsung proudly showed their 55 inch series 9 LED TV. This LED TV has around 0.7 cm thickness and consumes energy efficiently. The more detailed technical specifications of this product will be available as the company start to sell the product to the global market.