Reading ads from IT companies is always interesting. When a company grows big or the company is already a big player in the field, marketing and PR work in many occassions turns to be quite important, just like how a company emphasizes on outstanding product development during its early age.
Recently, I was so busy with my projects and hardly found time to read latest news or info from my mag and journal subscription. Surprisingly, in this May/June edition of Oracle Magazine which I just read, I found this very interesting ad in one page of the magazine.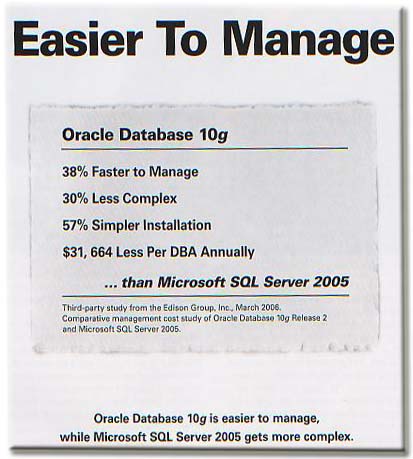 Hilarious!! This is not an ordinary ad. This is a direct-confrontation wrapped in a sweet ad candy.
I don't know other parties's reaction, but it will be fascin-IT-ing to see how IBM or Microsoft responds to this challenge.
Big companies always have their own creative mind.