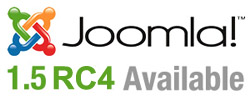 Last week, PC World named Windows Vista as the Biggest Tech Disappointment of 2007. On Wednesday, December 19th, 2007, Joomla 1.5 RC4 which is supposed to be the latest RC before the first stable released was announced to public. These two events may not be related but I'd like to write some concern regarding how Joomla 1.5, just like Windows Vista, might become the anticlimax despite its nice features.
It's done when it's done
It's been quite some time since Joomla 1.5 Beta was released to public. The table below shows how the Joomla 1.5 releases progress with time.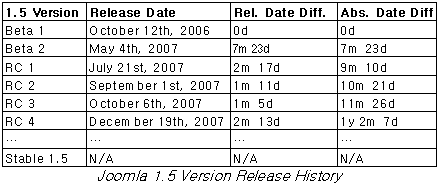 Rel. Date Diff is the legend for Relative Date Difference, that is time difference of current release compared with the previous release. Abs. Date Diff, respectively, is the legend for Absolute Date Difference, time difference of current release compared with the first release. As reference, we take Beta 1 as first release.
It's more than a year since Beta 1 when Joomla 1.5 RC4 was announced. For the first stable release itself, no exact date has been set yet. All is done when it's done, which simply means Joomla 1.5 stable will be released when it's considered stable enough to be released. For small application this shouldn't be a trouble. However, for a popular application like Joomla, this may bring glitches for the newest release adoption and implementation. As Joomla becomes popular because of its vast supporters, namely 3rd party developer, the new release should encourage them to migrate in order to agitate end users to do the same.
Helping Hands May Deprive

I gathered some data from the extension  site as the ultimate resource for 3rd party work for Joomla. I filter the contributions (module, extensions, plugin, translations, etc) based on their compatibility with both Joomla versions available on the market: Joomla 1.0 and Joomla 1.5. Data from search result is summarized in the table below:
Assuming that there is no intersection between search result (each contribution only supports single version), it's surprising to notice that to date, Joomla 1.5 adoption by 3rd party developers is less than 20%. One may argue that first assumption is wrong, hence the conclusion will also  be invalid. We'll now recount the stats by assuming some degree of intersection. With some simple maths, we can recreate above table as the following:

The table provides two level of intersections: modest level at 50% and very optimistic level at 100% (which means all 1.5 contributions has their equivalents in 1.0). Still, the best percentage we can get is about 23%, which is still not a good number.
Other one may also argue that quality should win over quantity thus less contributions shouldn't be a big problem as long as quality is preserved. This argument, however, is debatable. With acception rate less than a half (even less than a third), Joomla 1.5 has failed to attract developers to migrate, or at least to give support for the 1.5 release. In conjunction with this situation, end users may discourage from upgrading because less versatility offered by the newest release up until now. We'll see some more statistics in the next section.
Penetrating The Saturated Market
Most Joomla users are non developers who want simple solution implemented without technical hassle. This conclusion can be drawn from how joomla forum is flooded with technical problems -which sometimes are repeating- everyday eventhough they are somewhat easy for developers. Due to this nature, users most of the time want something stable that they can rely on so that they don't need to mess up with the technical stuff.
Joomla 1.0 is so far the most accepted Joomla version available and used by users. Let's take some statistics from the download page (only for full package download) and arrange our comparison table as below (as of December 23rd, 2007):

Although Joomla 1.5RC4 is still new (4 days until now), it's interesting to see the download pattern. Zip file download outperfoms other filetype download. This may imply that most Joomla users use Windows for their Joomla deployment.  As Windows is identical with user friendliness and minimal technical experience, we can support previous assumption that Joomla end users are not technical savvy.
From the total download, Joomla 1.5 RC4 only contributes about 2.5%, which is very small percentage. This percentage will change to a bigger number -for sure- but at current time, conclusion can be made that Joomla 1.0 is steady and still dominates most of Joomla share.
With Joomla 1.5 approaching its official release, it will be interesting to see how Joomla 1.5 tries to penetrate the saturated market, get more share in Joomla downloads and create new balance. I, however, am a bit uneasy at 3rd party level support for Joomla. Without boosts in 3rd party contribution development, Joomla 1.5 may fail to reminisce its predecessor success.
Let's wait and see.